Tasting Notes
ABV
45.2%
Region
Speyside
Bottling
Douglas Laing
Cask type

Refill Hogshead (# DL11835, 218 btl.)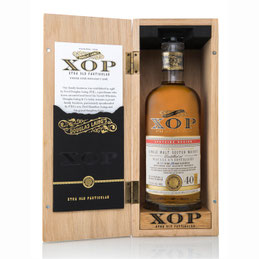 Nose
Quite lively on the nose, fresh with lots of fruits - luscious oranges, red apples and dark fruits. Creamy with vanilla, toffee and a hint of ginger spice. Elements of roasted bread, hazelnut and a whiff of tobacco leaves, nicely mixed with tender spiced oak in the back. Very complex!
Palate
Sweet and creamy on the palate with plums, caramel, overripe oranges and hints of banana. Then warming with a pleasant and complex mix of oak, black pepper and leather. Lingering notes of cloves, ginger spice, hazelnuts and subtle tobacco leaves towards the finish.
Finish
The finish is long, warm and lovely creamy with caramel and subtle grape peel. Floral notes emerge, followed by dry oak and white pepper on the tail.
With water
Water slightly tames the bold fruitiness while more toffee and butterscotch notes emerge. Slightly bitter on the nose with grape peel and a hint of floral notes in the back. Sweet and slightly warming on the palate with malted barley, toffee and creamy oranges and plums. The finish is a bit shorter but fairly dry with oak and subtle tobacco leaves.
Comments
Wow! What else can I say? A Macallan from the seventies of this quality class is hard to beat. Incredibly complex on the nose, excellently balanced and surprisingly fresh with lots of depth on the palate and a fantastic long finish. A highlight for every whisky lover.
I thank Douglas Laing for the sample and the photograph!