Tasting Notes
ABV
40%
Region
Highlands (Orkney Islands)
Bottling
Distillery (USA and Canada exclusive)
Cask type

--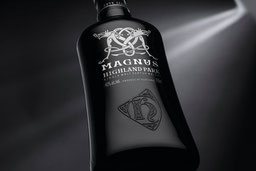 Nose
Fresh and fruity start on the nose with delicate citrus, green apples and lemon curd. Sweet notes of vanilla and subtle cereals arrive, followed by a hint of white pepper spice and a whiff of restrained smoke in the background.
Palate
Sweet and surprisingly spicy on the palate with lingering vanilla and honey, complemented by a warming spiciness of black pepper, subtle oak and cinnamon. Backed up with light peat smoke. The lovely warming spiciness is enhanced with a second sip.
Finish
The finish is warming, dry and peppery with just a hint of peat smoke. Short to medium in length.
With Water
Two drops of water bring more smoke to the fore, while the pleasant fruitiness and subtle oak spice remain. Sweet at first on the palate, followed by a burst of cracked black pepper and wood shavings. Tingling and warming. The finish is short, warming and significantly dry with oaky tannins and a whiff of smoke on the tail.
Comments
Magnus is a well-balanced, easy-drinking, relatively lightweight Highland Park single malt. Less pronounced smoke than in the Highland Park 12yo bottling. Not overly complex, but I like the contrast between nose and mouth. While the nose is dominated by freshness and fruitiness, the palate surprises with sweetness and intense spice. An aperitif-style whisky.
I thank Highland Park for the sample and the photograph!