Tasting Notes
ABV
47.1%
Region
Bordeaux (France)
Bottling
Distillery

Cask type

Finish for over 2 months in Red Wine Casks from Château La Louvière, Pessac-Léognan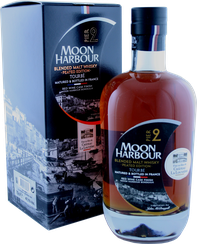 Nose
Sweet and fruity on the nose with cherries, raspberries and red berries, complemented by a delicate red wine aroma. This is all wrapped in pleasant peat smoke.
Palate
Sweet and strong on the palate with rich red wine flavours. Again sweet and delicate notes of cherries, red berries and raspberries, followed by sweet barley sugar. Warming spices arrive with cinnamon, pepper, nutmeg and spiced oak, mixed with a slightly sour touch of red currant towards the finish.
Finish
The finish is long, warm and creamy sweet with red fruit compote. Becomes slightly dry on the tail with oak, tannins and peat smoke.
With Water
Water enhances the fruitiness on the nose with more red berries, cherries and raspberries, while the red wine flavours are tamed. Sweet and creamy on the palate with toffee and stewed cherries and a slightly warming touch of spiciness. The finish is still long, slightly warm with red fruits. Becomes very dry on the tail with oak, lots of tannins and peat smoke.
Comments
A fairly powerful blended malt. This luscious combination of sweet red fruits, warming spices, peat smoke and tannic dryness is
s
atisfying nose and palate equally. The
Château La Louvière
red wine cask finish brings in delicate fruitiness and opulent sweetness harmonizing well with the peaty character of this blended malt. Best
to enjoy in front of a fireplace.
I thank Mr. Whisky Michael Reckhard for the sample and photograph!