Tasting Notes
ABV
51.3%
Region
Speyside
Bottling
The Whisky Agency (TWA) - Bottled for
The Whisky Exchange (TWE) Exclusive
Cask type

Sherry Butt (360 btl.)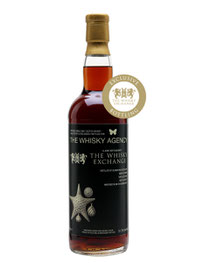 Nose
Oh yes, there's no doubt this is from a sherry cask! Bold, rich and intense sherry backbone with dried fruits, maraschino cherries, prunes, dates, and raisins. Sweet with brown sugar, liquorice, and marzipan, pleasantly mixed with dark chocolate, coffee and tender notes of leather in the back. A big nose!
Palate
The palate delivers what the nose promises. Rich, sweet and creamy, even sticky notes of sherry, dark ripe fruits, cherries, raisins, and prunes. This is complemented by a nicely warming spiciness of cinnamon, cardamom, oak and subtle black pepper. Stays sweet with Demerara sugar and rum flavours. Subtle chocolate coated coffee beans and a hint of balsamic vinegar towards the finish.
Finish
The finish is pleasantly long and warming. Now more spicy notes arrive with leather, tobacco leaves and cigar box, followed by dry oak, burnt caramel, and coffee beans. Happily, the delicate sweetness returns with a wee creamy touch of dark fruit jam on the tail.
With Water
There's almost no change on the nose when a splash of water is added. Despite the heavy sherry load more fruitiness is coming through: fruits soaked in dark rum. On the palate, however, more spices arrive with prickling oak, black pepper, cinnamon, and cloves. The sweetness is a bit tamed, while rum soaked fruits and notes of chocolate-coated coffee beans are still present. The finish is long, warm and dry with oak, coffee, tobacco leaves and leather, with a slightly bitter end.
Comments
Very lush and bold sherry cask matured Glenrothes! Quite an intense, complex sherried dram, packed full of creamy sweetness and rum soaked fruits. A rich and deep character with a lovely nose and a powerful palate. Multi-layered and nicely balanced with loads of dark fruits, warm spices and a delicate mix of chocolate and tobacco flavours. A grown-up whisky which I prefer to drink neat but which can tolerate a few drops of water, too.
I thank The Whisky Exchange (TWE) for the photograph!