Tasting Notes
ABV
55.3%
Region
Lowlands
Bottling
The Whisky Chamber

Cask type

Refill Sherry Hogshead (#79885, 191 btl.)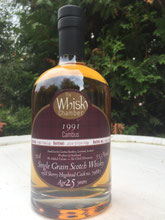 Nose
Rich and sweet with vanilla, toffee and blossom honey. Fruity notes of yellow cherries and apricots emerge, followed by some citric fruits and oak spice in the background.
Palate
As the nose suggests quite sweet with honey, vanilla and cherries plus an extra creaminess. Pleasantly warming with cinnamon, subtle white pepper and a touch of marzipan. Sticky notes of ripe plum arrive, followed by some bitter grape peel and cloves towards the finish.
Finish
The finish is medium long, soft and creamy with blossom honey, vanilla custard, caramel and toffee. Slightly bitter grape peel, dry oak and cloves on the tail. Pleasantly warming.
With Water
Lively on the nose when a splash of water is added. More vanilla, toffee and cherry fruit while the spiciness - oak and black pepper in particular - is enhanced, too. Still sweet on the palate with vanilla, cherries, plums and oranges, accompanied by a warming spiciness of oak, white pepper, cinnamon and cloves. Again, some bitter notes of grape peel and oak towards the finish. The finish is medium long, creamy with honey and vanilla. Becomes fairly dry on the tail with oak, cloves and grape peel.
Comments
This single grain whisky from the independent bottler The Whisky Chamber is on the sweet side with a lovely vanilla nose that pleasantly echos on the palate as well as a good mastered alcohol. Good balance of fruit, oak and spice with not an unpleasant bitter note of grape peel in the background. Lovely sweet, creamy and deliciously tasty.