Tasting Notes
ABV
62.1%
Region
Single Malt from India
Bottling
Distillery
Cask type

American Oak Barrels, 1st Finish in Port Pipes, 2nd Finish in ex-Bourbon Casks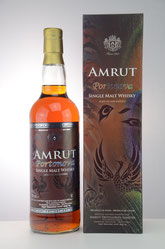 Nose
Fruity start on the nose with red fruits - cherries and plums, soaked in port wine. Behind that sweet curtain subtle cinnamon and a whiff of oak emerge, followed by dark chocolate and a slightly bitter touch of liquorice. The alcohol is very present but not pungent.
Palate
Bold and very sweet on the palate with lots of stewed plums, cranberries, and cherries, nicely covered with port wine. This is complemented by a warming spiciness of pepper, cinnamon and subtle oak followed by a discreet alcoholic bite. Becomes creamy with a bitter touch of espresso towards the finish.
Finish
The finish is long, warm, and creamy with sticky dark fruit jam and chocolate. Slightly bitter notes of oak and liquorice on the tail.
With Water
Very lively on the nose when a splash of water is added. Still fruity with dark fruits, cinnamon and oak in the back. The lovely sweetness, however, is significantly tamed. Very spicy on the palate with nutmeg, oak spice, cinnamon and black pepper. Prickling on the tongue with less fruit. The finish is long, warm, creamy and dry with a bitter touch of dark chocolate, oak and pepper.
Comments
A delicate and appealing dram with a good flavour profile! Well balanced with sweet and fruity elements, along with a warming spiciness. Quite palatable neat. Water, however, tames the lovely fruitiness/sweetness while dry and more spicy notes come to the fore.
I thank Kirsch Whisky - The House of Whiskies  for the sample and the photograph!