Tasting Notes
ABV
53.2%
Region
Highlands
Bottling
Meadowside Blending

Cask type

First Fill Sherry Butt (#3325, 581 btl.)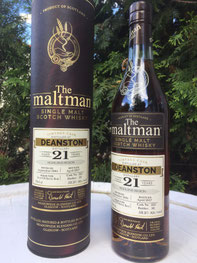 Nose
The sherry is immediately present along with delicate dark fruits, figs, plums and dates. Lovely sweet with brown sugar, vanilla and a hint of milk chocolate. With time dumpy notes of tobacco leaves, touch of leather and fine oak arrive. Very aromatic and appealing nose. Improves with time in the glass.
Palate
Bold and intense on the palate. Mouth coating and watering with lots of sherry, brown sugar, raisins, plums and dark chocolate. Becomes spicy and slightly dry with hints of oak, tobacco leaves and cracked black pepper, accompanied with delicate notes of cinnamon, toffee and vanilla. The spiciness increases with a second sip.
Finish
The finish shows good length with warming and slightly bitter notes of dark chocolate, leather, black pepper and oak spice. Very chewy and tasty.
With Water
Soft and round on the nose when a few drops of water are added. Sherry, dark fruits and oak spice are still present. The spiciness and dumpy notes, however, are significantly tamed. Surprisingly less sweet on the palate with tamed sherry flavours and dark fruits. On the other hand, the spiciness and peppery notes increase along with dry oak, dark chocolate and tobacco leaves. The finish is medium long, warm and dry with slightly bitter notes of oak, leather and espresso.
Comments
An enticing sherry character! A bold, rich and luscious Deanston where sherry and dark fruits shine through all the way with great elegance and complexity. Good balance of sweetness and spiciness supported by a subtle dry and bitter backbone. No water needed as it masks the lovely sweetness and fruity flavours. Certainly one for the sherry aficionado.