Tasting Notes
ABV
48.0%
Region
Islay
Bottling
Douglas Laing
Cask type

Finished in Sherry Casks (1,600 btl.)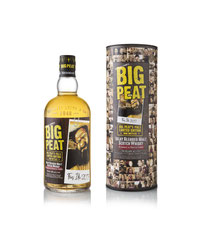 Nose
Fresh on the nose with sea air and subtle peat smoke. Fruity notes of red apples and stewed peaches emerge, nicely intermingling with sherry sweetness, liquorice and a whiff of cinnamon. With time, more and more peat arrives.
Palate
Bold and intense on the palate with a delicate sweetness of barley sugar, red apples and ripe peaches. This is complemented by pepper, peat, ashes and a slightly alcoholic bite. Then sherry arrives, followed by creamy notes of caramel and malt. Gentle peat smoke, tender tobacco leaves and dark chocolate towards the finish.
Finish
The finish is long, warm, sweet and creamy with vanilla, malted barley and soft peat. Becomes slightly dry on the tail with a touch of cocoa, oak, allspice and ashes.
With water
Quite lively on the nose when water is added. There's more smoke and spiciness, while the lovely sherry sweetness is fairly tamed. Still sweet and fruity on the palate with vanilla, malted barley, caramel and apples. The peppery notes are significantly reduced with only subtle warming spices towards the finish. The finish is a bit shorter with vanilla, barley and dark chocolate, nicely wrapped in crisp peat smoke.
Comments
A pleasant and intense blended malt with a nice balance of sweetness, fruitiness and peat smoke. The finish in sherry casks delivers delicate sweet and spicy notes taming a bit of the typical Islay punch. Not entirely complex, but quite a pleasing dram which also tolerates some drops of water.
I thank Douglas Laing for the sample and the photograph!