Tasting Notes
ABV
43%
Region
Single Malt from Finland
Bottling
Distillery
Cask type

Ex-Sherry and ex-Bourbon Casks, PX Sherry Casks Finish (around 5,000 btl.)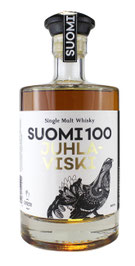 Nose
Fresh on the nose with peat and a slightly maritime note. Citrus arrives, followed by a lingering sweetness of vanilla and barley. This is nicely mixed with fruity notes of yellow apples and red grapes. Tender bonfire smokiness in the back.
Palate
Sweet on the palate with malted barley, toffee and delicate fruit - apples and red berries. This is followed by a significantly bold and warming spiciness of pepper, oak, hints of cinnamon and tender tar notes. Lingering creamy vanilla and a touch of liquorice towards the finish.
Finish
The finish is medium long, sweet and creamy with vanilla and malted barley. Becomes slightly dry on the tail with spiced oak and warming peat.
With Water
Bold and intense on the nose when a few drops of water are added. The sweetness and fruitiness are tamed while oak, pepper and hints of peat are present. Quite sweet on the palate with lingering vanilla, caramel and malted barley, while the spiciness is almost tamed. The finish is medium long, warm, slightly sweet and fairly dry with oak, pepper and a whiff of peat smoke.
Comments
A nice and delicate single malt. Seems to be young but already well structured. Nice balance of sweetness and fruitiness with subtle peat influence. Surprisingly, this dram tolerates water becoming very sweet with hints of peat smoke. A seriously interesting whisky from the North.
I thank Kirsch Whisky - The House of Whiskies  for the sample and Teerenpeli Distillery for the photograph!