Tasting Notes
ABV
48.6%
Region
Highlands (Isle of Mull)
Bottling
whic (Whiskycircle)

Cask type

American White Oak Hogshead, Sherry Octave Casks Finish for 8 Months (#328a-c, 231 btl.)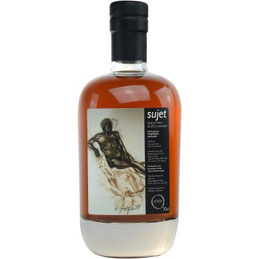 Nose
There's immediately sherry on the nose, mixed with slightly earthy tones. Behind that lingering fruity notes emerge with grapes, red apples, peaches and a whiff of citrus. Oak spice is coming through with a pleasant mix of tobacco leaves, leather and subtle cinnamon.
Palate
Sweet and creamy start on the palate with honey and dark fruit jam, followed by red apples and cherries. Then slightly bitter notes of grape peel and tobacco leaves arrive, followed by a warming and tender astringent spiciness of pepper and oak. Becomes drier towards the finish with notes of dark chocolate, tobacco and cocoa.
Finish
The finish is long, warm and dry with tobacco leaves, espresso and oak. Subtle astringent with a touch of cherries on the tail.
With water
Fresher on the nose when a few drops of water are added. There's less fruitiness but more citric notes and oak are coming through. Water tames the sweetness on the palate while more citrus and grapes emerge. Less warming and spicy but still dry towards the finish. The finish is a bit shorter but stays dry with tobacco leaves, oak and dark chocolate. Hints of honey and cherries on the tail.
Comments
An intense and nicely complex Islander with a lovely sherry-derived character. Beautifully poised and well balanced. A rich, deep and well matured whisky with a vibrant character, especially on the palate. Refreshing when water is added, but also fairly dry. This one is a perfect post dinner dram.
I thank Arne Wesche from whic (Whiskycircle) for the sample and the photograph!