Tasting Notes
ABV
55.0%
Region
Speyside
Bottling
That Boutique-y Whisky Company (TBWC)

Cask type

That Boutique-y Whisky Company (TBWC)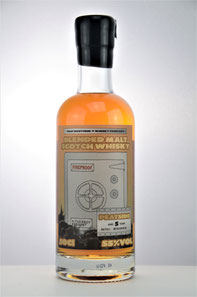 Nose
Fruity on the nose with strawberries and bananas. This is accompanied by intense peat smoke, mixed with burnt caramel and tobacco leaves. Hints of grassy notes and fresh oak in the background.
Palate
Sweet start on the palate with fruit, banana, grapes, followed by with a warming spiciness of oak, pepper, and allspice. Creamy malted barley arrives, replaced by dry notes of grape peel, tobacco leaves and peat smoke.
Finish
The finish shows medium length with subtle creamy red fruit. Becomes dry on the tail with warming spice, oak and tobacco leaves.
With Water
Significantly tamed fruitiness on the nose when a splash of water is added. Becomes very dry with more peat, coal ash and smoke. Less sweet but significantly drier on the palate. Oak, burnt caramel, cough syrup and peat smoke are dominating here. The finish is medium long, warm and dry with tobacco leaves, peat smoke and prickling oak. No sign of any fruits left.
Comments
This young blended malt is a bit unbalanced to me. Delicate fruitiness of the madeira cask on the one hand, a bold, boisterous peaty smokiness with dry oak on the other. Both parts do not really stick together. Water doesn't help at all as it significantly tames the pleasant fruitiness.