Tasting Notes
ABV
46.8%
Region
Highlands
Bottling
Douglas Laing
Cask type

-- (7,258 btl.)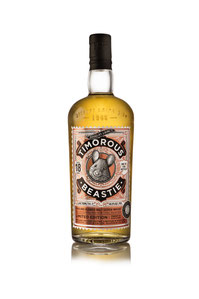 Nose
The nose starts off with a pleasant fruitiness of apricots, white peaches and subtle bananas. This is underlined with a decent vanilla sweetness and lemon sorbet. Hints of honey and a touch of floral notes in the background. Mellow and very appealing!
Palate
Lovely sweet on the palate with vanilla, honey and lingering fruits - peaches, pineapples and bananas.  This is complemented with a warming spiciness of black pepper, along with a touch of cinnamon and crisp oak towards the finish. Nice and tasty!
Finish
The finish shows medium length with a lingering mix of sweet vanilla and honey notes, along with pepper, spiced oak and subtle cinnamon. Slightly dry on the tail.
With water
Fresh and clean on the nose when water is added. Increased fruitiness of white peaches, apricots and pineapples, nicely mixed with fresh lemon sorbet. Quite sweet and fruity on the palate while the warming spiciness is tamed a bit. Less black pepper with honey and cinnamon towards the finish. The finish is medium long with creamy honey, vanilla, subtle cinnamon and prickling oak on the tail.
Comments
Quite a powerful blended Highland malt. Good balance of sweetness, luscious yellow fruits and warming spiciness with a reasonable complexity. Needs time to develop its full flavour profile. Pleasantly drinkable both neat and diluted. The brave younger brother of the outstanding 40 yo Beastie!
I thank Douglas Laing for the sample and the photograph!