Tasting Notes
ABV
40%
Region
Speyside
Bottling
Gordon & MacPhail

Cask type

Sherry Casks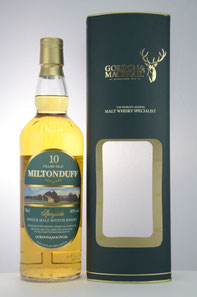 Nose
A pleasant start on the nose with vanilla and some delicate fruity notes of peaches, yellow apples and lemons. Lingering honey emerges, along with some grassy and vegetal tones. Light and soft.
Palate
Fresh and sweet on the palate with peaches, apples and a whiff of lemons. Pleasantly warming spices arrive with cinnamon, pepper and a hint of oak. Acacia honey underlined with a slightly bitterness of orange peel and grassy notes towards the finish.
Finish
The finish shows medium-length with creamy notes of toffee and honey. Mouth-coating spices of cinnamon and nutmeg with slightly dry oak on the tail.
With Water
Clean and fresh on the nose when a few drops of water are added. Plenty of vanilla, along with delicate yellow fruits and a slightly increased touch of oak in the back. There's more bitter notes of orange peel coming through, along with a slightly increased spiciness. While the pleasant sweet and fruity flavours are tamed, notes of dry oak are coming to the fore. The finish is medium long with honey, nutmeg and a whiff of dry cocoa.
Comments
A fine Speyside single malt with refreshing quality. Pleasantly light with a good balance of sweet fruitiness, honeyed vanilla and warming spices. A well preserved dram with reasonable complexity. Best to be appreciated on a lovely summer evening. Definitely no need for water here.