Tasting Notes
ABV
57.3%
Region
Highlands (Isle of Mull)
Bottling
Signatory Vintage (specially selected for Germany)
Cask type

1st-Fill Sherry Butt (#900154, 653 btl.)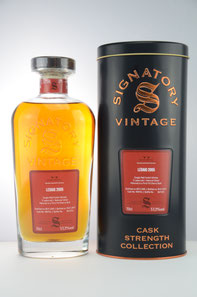 Nose
There's instantly smoke on the nose with a delicate sweetness of dried fruit - cherries and plums in particular. This is accompanied by smoked ham, maritime and slightly medicinal notes, followed by a hint of tobacco leaves in the back.
Palate
Bold and intense on the palate with smoke and medicinal flavours at first. Warming alcohol, nicely mixed with black pepper. Then the creamy fruitiness arrives with plums and cherries, along with vanilla and some more red fruits. Lingering notes of cloves, nutmeg and allspice towards the finish, all wrapped in delicate smoke.
Finish
The finish is long, warm and slightly sweet with subtle black pepper, burnt caramel and dry oak on the tail. Nicely mouth-coating.
With Water
Water tames the sweetness and delicate fruity flavours bringing more peat smoke and medicinal flavours to the fore. There's also more medicinal notes on the palate with iodine and gauze bandage. Less sweet but more dry oak towards the finish. The finish is still long, spicy and warming with subtle fruity flavours and dry peat smoke on the tail.
Comments
Although having been matured in a first fill sherry butt for 11 years, this Ledaig is instantly recognisable. Delicate smoky character with spicy elements and a pleasantly balancing sweetness, along with delicate fruity components. Perfect to enjoy neat. No water please as this islander becomes very dry and smoky.