Tasting Notes
ABV
48.4%
Region
Islay
Bottling
Douglas Laing
Cask type

Sherry Butt (# DL10794, 468 btl.)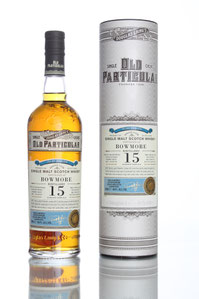 Nose
Notes of crisp peat at first, combined with a pleasant sweetness of cereals, malted barley and burnt caramel. Zesty oranges with a hint of smoke, nutmeg and anise in the back.
Palate
The delicate sweetness continues on the palate with caramel, vanilla and rich dried fruits - mainly oranges. This is accompanied with a nicely warming spiciness of oak, white pepper, and cardamom. Coastal flavours nicely linger with subtle sea salt, peat smoke and tender phenols towards the finish.
Finish
The finish shows good length with a nice mix of peat, pepper, black currant and burnt caramel. Slightly bitter orange peel and dry oak on the tail.
With water
There's less peaty flavours on the nose when a few drops of water are added. The combined sweetness of vanilla, barley and fruit is tamed, too while more smoke is coming through. Lots of caramel notes on the palate with vanilla and warming oak spice. Significantly drier with a tamed sweetness. The finish is medium long and very dry with oak, nutmeg, allspice, and pepper. Subtle peat smoke and slightly bitter orange peel on the tail.
Comments
A distinct, delicate and surprisingly sweet Bowmore. A classical and pleasantly restrained Islay character with a perfect balance of fruit and spice. Rich, multi-layered and well crafted. Delightfully elegant! Water, however, changes the rules, bringing dry oak forward.
I thank Douglas Laing for the sample and the photograph!