Tasting Notes
ABV
46.0%
Region
Speyside
Bottling
Douglas Laing
Cask type

Sherry Casks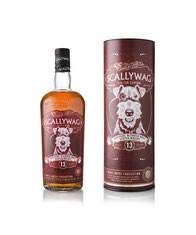 Nose
Unequivocally sherry on the nose. However, not that bold "sherry bomb" but rather filigree, gentle and well-structured flavours. There's cinnamon, dried fruits and red berries, along with juicy oranges and baked red apples. With time, lingering oak spice emerges, accompanied with hazelnut, subtle raisins, nutmeg and a whiff of ginger in the background. A gorgeous nose!
Palate
This lovely mix of delicate flavours continues on the palate. There's creamy vanilla, red dried fruits, juicy oranges, and subtle raisins coming through. This is well-balanced with a pleasant spiciness of oak, cinnamon, sweet crystallized ginger and nutmeg. Some floral notes arrive, nicely intermingling with slightly bitter orange peel towards the finish.
Finish
The finish shows medium length with creamy vanilla, zesty orange and mocha, leading to a warm and spicy end with oak, pepper and nutmeg.
With water
Fresher on the nose with a few drops of water. It brings out some more spice while the fruity flavours remain present. Both the sweetness and fruitiness, however, are significantly tamed on the palate bringing more oak spice, cracked black pepper, ginger and nutmeg to the fore. The finish is medium long, warm and spicy with prickling oak on the tongue. Becomes significantly dry with a whiff of tobacco leaves on the tail.
Comments
An absolutely fabulous blended malt. Exuberant sweet and fruity aromas in perfect balance with a rich spiciness coming from the sherry casks. A multi-layered, entertaining dram with no overwhelming sherry flavours. Truly enjoyable and dangerously quaffable. Be careful when adding water as you might loose a lot of character of this gorgeous dram.
I thank Douglas Laing for the photograph!