Tasting Notes
ABV
59.4%
Region
Speyside
Bottling
The Whisky Chamber

Cask type

ex-Sherry First Fill Hogshead (#900874, 446 btl.)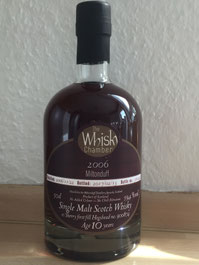 Nose
A pleasant start on the nose with a rich and typical sherry aroma spectrum: delicate notes of old sherry, figs, raisins, Demerara sugar and dark chocolate. Lingering dark caramel arrives, nicely mixed with notes of tobacco leaves, old cigar box and a whiff of oak spice in the background. The high alcohol content is well integrated.
Palate
Powerful and intense on the palate. Sweet, but not too sweet flavours of sherry, caramel, figs and raisins, nicely interwoven with delicate dark chocolate and white pepper. Very warming with pleasant nutty flavours and a sound dry oakiness towards the finish. Beautifully composed!
Finish
The finish is long, warm and creamy with a lingering nuttiness. Gets drier in the end with espresso and tobacco leaves. Nicely warming with subtle oak spice and black pepper on the tail.
With water
Fresh and lively on the nose with a splash of water. Besides the delicate sherry-derived flavours more spicy notes of oak and pepper emerge, while dark chocolate is slightly pushed in the background. Still bold and intense on the palate with less sweet aromas, subtle raisins and burnt caramel. This is accompanied by a significantly enhanced spiciness of oak, pepper and tobacco leaves. The finish shows good length with a warming mix of oak spice, pepper and lingering nutty flavours. Quite prickling oak on the tongue with dry notes of espresso and tobacco leaves on the tail.
Comments
The type of maturation has deeply influenced but not overpowered this Speyside single malt. The result is a full-bodied, rich and powerful dram with a classic sherry-derived flavour profile. Well-balanced with a pleasant sweetness, dry nuttiness and warming spiciness. Highly savoury! No water needed as the high alcoholic content is already well-integrated. Another big hit from The Whisky Chamber - not only for the sherry aficionado.