Tasting Notes
ABV
61.5%
Region
Highlands
Bottling
Whisky Tales

Cask type

1st Fill Oloroso Sherry Cask (#527, 240 btl.)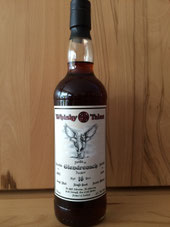 Nose
Rich and intense on the nose. Concentrated sherry notes nicely mixed with dried fruits, plums, dates and rum-soaked raisins, followed by a touch of nuttiness and sweet Demerara sugar. Slightly dry notes of cocoa and dark bitter chocolate arrive, with gentle polished antique furniture and a hint of tobacco leaves in the back. Lovely complex.
Palate
Deliciously sweet and intense on the palate. Rich sherry notes come along with dates, figs, plums and juicy oranges. This is accompanied by a bold and warming spiciness of pepper, cinnamon and oak. Sweet notes of Demerara sugar are quickly replaced by sligthly bitter notes of orange peel, tobacco leaves and dark chocolate towards the finish, resulting in a pleasant mouthfeel.
Finish
The finish is long and sweet with a nice creamy texture. Oranges with a warming spiciness of cinnamon and oak, followed by dry notes of tobacco leaves and lingering tannins in the end.
With water
Still sweet on the nose with full sherry flavours when a splash of water is added. Slightly more dry notes of oak, tobacco leaves and burnt matches. Sweet and creamy on the palate with lingering notes of sherry, dates and raisins. Dark chocolate and prickling oak spice on the tongue. The finish is long, creamy and warm with far more oranges, mixed with some more dry notes of oak, tannins and tobacco leaves on the tail.
Comments
What a stunner! Pure, natural sherry character. A dark, sherried and beautifully composed whisky with a well mastered alcohol. Impressively rich and indulgent, this single malt shows a nice complexity with a perfect balance. The flavours have melded in a beautiful way, in what must have been an excellent first-fill sherry cask. A great choice, especially as an after-dinner or late-night whisky.