Tasting Notes
ABV
55.5%
Region
Lowlands
Bottling
Douglas Laing
Cask type

Sherry Butt (# DL11484, 306 btl.)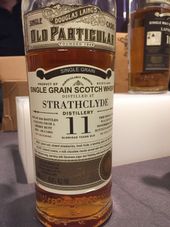 Nose
The nose starts off with gentle caramel, vanilla and a fresh hint of lemon zest. With time dried fruit - gooseberry and strawberry - arrives, nicely mixed with background oak, acacia honey and a herbal touch of pine needles.
Palate
Sweet and creamy on the palate with lots of vanilla and toffee. This is followed by dried fruits, more darker ones than those on the nose, and a touch of milk chocolate. Slightly warming with oak spice, pepper, and subtle nutmeg. Stimulates salivation with spicy notes of acacia honey and hints of pine needles towards the finish.
Finish
The finish is medium long and rich. Lovely warming with some additional dried fruits - oranges and lemon, followed by sweet biscuits. Slightly spiced oak with a pleasant hint of acacia honey on the tail.
With water
There's almost no change on the nose with a splash of water. Slightly spicy notes are added to the pleasant fruity and vanilla sweetness. On the palate, however, water enhances the spiciness getting fizzy and tickling on the tongue while the sweetness of creamy vanilla and the fruity elements are still present. The finish is short with an increased astringency of oak.
Comments
This is quite an impressive example that single grain whisky doesn't need to be very old before being savoured. This just 11 years old Strathclyde is definitely on the sweet side with lovely layers of vanilla, toffee, and dried fruits, balanced with oak, spice and pleasant notes of pine needles. Good balance and good character - a delicate and rich whisky. No need to add water to this one.
I thank Jan Beckers from Douglas Laing for the sample!