Tasting Notes
ABV
54.9%
Region
Highlands
Bottling
Distillery

Cask type

Refill Sherry Cask (#3136)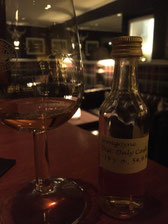 Nose
The nose starts off with delicate tropical fruits - mango, guava, pineapple and banana. Beautifully fragrant with creamy vanilla, oak and barley. With time hints of pink grapefruit and slightly bitter wood spices in the back.
Palate
Succulent, sweet and creamy with tropical fruit - banana, melon, apricot, pineapple and hints of pears. Beautifully deep and complex with creamy vanilla, barley and honey, followed by subtle spiced oak towards the finish.
Finish
Medium long, juicy and creamy with vanilla, honey and crisp barley. Sligthly warming oak spice with the tropical fruitiness showing up again on the tail. A classic Highland finish.
With Water
Deliciously sweet and fruity on the nose with a splash of water. There's more vanilla coming through, followed by icing sugar and hints of oak spice. On the palate, however, the beautiful tropical fruitiness is significantly tamed while more bitter notes of pink grapefruit emerge. The finish shows medium length, with a touch of vanilla and fruity sweetness. The pleasant warming spiciness is almost gone.
Comments
A lovely, pleasant and complex whisky. Wonderful sweet with vanilla, delicate tropical fruit and warming oak spice. A very well aged malt with great depth and maturity. Less sweet with a bitter grip when water is added.
I thank Björn Lahmann from Whiskyplaza for the sample!