Tasting Notes
ABV
54.6%
Region
Islay
Bottling
Douglas Laing
Cask type

Refill Hogshead (# DL11204, 197 btl.)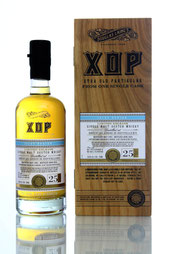 Nose
Initially fruity with a potpourri of pears, yellow apples, bananas and juicy oranges. Lovely inebriant with a tender alcoholic bite. Toffee and delicate notes of butterscotch arrive, nicely mingling with subtle oak, hints of salt and a fresh whiff of sea breeze in the back.
Palate
Bold, intense and nicely warming start on the palate with oak spice, black pepper and allspice, complemented by a discreet creamy sweetness. Less fruity on the palate as the nose suggests. Stewed fruit's coming through, rather dark fruits than the yellow ones on the nose, followed by drying notes of oak and a touch of ginger and anise towards the finish.
Finish
The finish is long and creamy sweet with a warming mix of oak spice, pepper, and caramelised ginger. Becomes significantly dry on the tail with a hint of sea salt.
With water
On the nose, lots of yellow fruit's coming through with a splash of water, while the oaky spiciness and the alcoholic bite almost disappear. Smooth, soft and elegant on the palate with yellow fruits, tangerines and quince in particular. The warming spiciness is significantly tamed while more dry notes of oak and allspice arrive towards the finish. The finish is a bit shorter, slightly warm and creamy with oak, pepper and ginger. Soft stewed yellow fruits on the tail.
Comments
This nice 25 years old bottling of Bruichladdich is well-rounded, balanced and complex. A lovely and delicate summer malt, with the right amount of soft fruit and warming spice. The alcohol is almost perfectly tamed. It's fantastic for its age, having retained the signature freshness, especially on the nose. Indeed a cheery summer sunset dram.
I thank Douglas Laing for the sample and the photograph!