Tasting Notes
ABV
50%
Region
Scotland/France (Burgundy)
Bottling
Michel Couvreur
Cask type

Sherry Oak Casks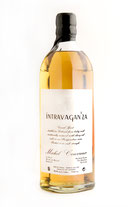 Nose
The nose starts off with flavours of dark grapes, raisins, and sherry. Very sweet, liqueur-like with dominating notes of walnuts. Reminds me of trail mix. An enticing nose!
Palate
Lovely sweet on the palate with a delicate mix of dark grapes, raisins, Demerara sugar and sherry flavours. A pleasant nuttiness emerges with walnuts in particular, coated with dark bitter chocolate, followed by a hint of pepper and oak towards the finish. Very nice!
Finish
The finish is medium long with grapes and a touch of marzipan. Slightly salty nutty flavours, lovely mixed with coffee and dark bitter chocolate on the tail.
With Water
Lots of grapes, even pomace-like flavours emerge by adding a few drops of water. The walnut aroma is still very present, followed by a slightly floral note. Sweet with luscious grapes, raisins and sherry. Water brings in some spiciness with white pepper and prickling oak. More vibrant on the tongue. The finish is medium long, sweet and creamy with grapes, walnuts and a slightly warming spicy edge. HInts of dark chocolate on the tail.
Comments
A very aromatic, well-sherried "whisky" (less than 3 years old) with a distinct and lively walnut character deeper within. Very flavourful with a pleasant balance of fruit, chocolate and walnuts. Reminds me a bit of sweet walnut liqueur. Water opens this dram quite nicely bringing spiciness and vibrancy to the fore. Enticing and very tasty!
I thank Frank Jerger from Whisky for Life for the sample and the photograph!