Tasting Notes
ABV
45%
Region
Scotland/France (Burgundy)
Bottling
Michel Couvreur
Cask type

Sherry Oak Casks (Bottle Code L. 006)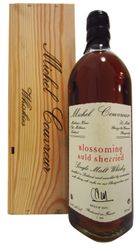 Nose
Deep and rich with lots of sherry, prunes, and raisins. Behind that there's caramel coming through, mixed with herbs, lovage in particular, and hints of damped wood in the back. An enticing nose!
Palate
Rich sherry flavours on the palate with a delicate sweet fruitiness of dark cherries, figs and raisins. Herbal notes of lovage arrive, accompanied by caramel and walnut flavours, nicely wrapped in dark chocolate and a warming spiciness of cinnamon and slightly dry oak. Pleasantly mouthfilling!
Finish
The finish is gloriously long, smooth and creamy with caramel, slightly dry herbal notes and a touch of bitter oakiness on the tail.
With Water
The delicate and rich sherry flavours still dominate on the nose when a few drops of water are added. In addition, there is more spiciness coming through with oak and pepper pushing the fruitiness in the background. Rich and quite intense on the palate with a warming mix of oaky spiciness, pepper, lots of fruity sweetness, figs and raisins in particular, and slightly bitter dark chocolate. The finish is still long but becomes drier towards the end with oak, herbs and lingering walnut flavours.
Comments
A classic old-school sherried whisky. Well balanced, rich and complex with a beautiful long finish. If you like sweet and fruity, nutty and chocolatey notes found in old rich sherry, this dram would be a perfect choice. To be enjoyed neat as an after-dinner or late-night whisky. Certainly a must have for the sherry aficionado!
I thank Frank Jerger from Whisky for Life for the sample and the photograph!