Tasting Notes
ABV
60.1%
Region
Islay
Bottling
Distillery

Cask type

Sherry Butt (#79, 606 btl.)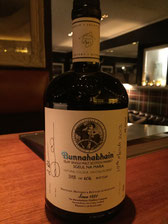 Nose
Lovely sweet start on the nose with sherry, dates and raisins, followed by dark fruits and a bit of toffee. Fresh with sea air, some oak, hints of damped wood and leathery notes. A touch of cinnamon, pepper and salted nuts in the back.
Palate
Bold and rich on the palate. Big and mouth coating with sherry sweetness, Christmas cake, caramel and dried dark fruits, accompanied by an intense warming spiciness of oak, black pepper, cinnamon, nutmeg, and a whiff of cardamom. Becomes slightly astringent towards the finish with subtle bitter walnuts and tannins.
Finish
The finish is long, creamy sweet, dry and pleasantly warming with toffee, spiced oak, bitter dark chocolate, damped wood and a touch of salt.
With Water
Stays sweet on the nose by adding a splash of water while more sea air is coming to the fore. Fresh and fruity. Sweet and creamy on the palate where the bold spiciness is significantly tamed. Damped wood and leathery notes are nicely mixed with delicate malted barley. The finish is a bit shorter, creamy sweet with caramel and a lingering nuttiness on the tail.
Comments
A big sherried Islay whisky. The nose and the palate deliver delicate, intense and multi-layered flavours. Nice interplay of sherry sweetness, dark fruitiness, warming spiciness, fresh sea air and lingering saltiness. Quite enjoyable neat despite the high alcohol content.
The perfect companion to a s
ea salt dark chocolate bar.
I thank Björn Lahmann from Whiskyplaza for the sample!