Tasting Notes
ABV
53%
Region
Scotland/France (Burgundy)
Bottling
Michel Couvreur
Cask type

Sherry Oak Casks (Bottle Code L. 2016002)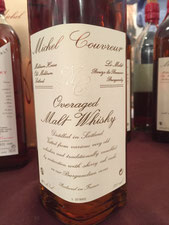 Nose
Sweet and spicy on the nose with sherry, dark fruits, cherries and raisins, tobacco leaves and subtle aniseed. A hint of smoke nicely lingers with cinnamon, leather, matches and notes of cedarwood in the back. The alcohol is well-integrated.
Palate
Rich sherry flavours on the palate with Christmas cake, plums, raisins and also some juicy red fruits. Not as sweet as the nose suggests. This is followed by a warming spiciness of oak, caramelised ginger, aniseed and pepper. Notes of tobacco leaves, leather and dark bitter chocolate nicely mingle with subtle smoke of burnt matches towards the finish. Deliciously mouthfilling!
Finish
The finish is long, warm, slightly sweet and spicy with oak. Becomes drier towards the end with tobacco leaves, aniseed and slightly bitter dark chocolate.
With Water
There's more smoke and spiciness coming through when water is added. The lovely fruity and sherry flavours are significantly tamed. Slightly sweet and fruity on the palate, accompanied with a significantly increased spiciness of oak, pepper and dry notes of tobacco leaves and espresso. The finish is still long, warm and very dry with spiced oak, more smoke and tobacco notes.
Comments
Very decent stuff! The nose is gorgeous with a nice interplay of rich sherry sweetness, dark fruitiness and spiciness. Very well balanced. Lacks a bit of sweetness on the palate while spicy and dry notes dominate. Lovely complex with a well-integrated alcohol. Certainly one for the colder days. Best to enjoy neat in front of a log fire.