Tasting Notes
ABV
51.9%
Region
Highlands
Bottling
eSpirits Whisky for Liquid Treasures
Cask type

Bourbon Hogshead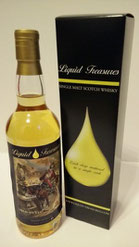 Nose
The nose starts off with lingering vanilla, yellow fruits - mirabelle, gooseberry and subtle lemon. Waxy with a hint of oak and slightly bitter orange peel in the back. The alcohol is well integrated.
Palate

Bold and intense on the palate with vanilla, biscuits and a slightly sweet fruitiness of mirabelle and quince. Pleasantly warming with oak spice, pepper, aniseed and subtle cloves. Creamy and oily.
Finish
The finish is medium long, creamy and subtle sweet but becomes dry with time. Tender bitter lemon peel with oaky tones and a hint of black pepper on the tail.
With Water
Water tames the vanilla sweetness and yellow fruitiness, bringing more prickling oak to the fore. The same on the palate. Less sweetness and fruity flavours while spices and prickling oak dominate. The finish shows medium length with slightly prickling spices, dry oak and bitter lemon peel on the tail.
Comments
Tasty stuff. A good balance between vanilla sweetness, fruit and oak. Lacks some complexity but an accessible and easily drinkable whisky with nice maturity. I preferred it neat.

I thank Dailydram.de for the sample and the photograph!