Tasting Notes
ABV
44.5%
Region
Lowlands
Bottling
Douglas Laing
Cask type

Refill Barrel (DL11209, 130 btl.)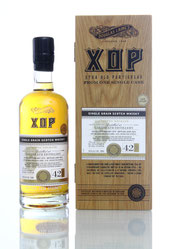 Nose
Fruity start on the nose with yellow apples, pineapple and a hint of banana, lovely mixed with vanilla and biscuit. A tad of glue's shining through, followed by darker fruits, blood oranges and red cherries in particular. Earthy notes, damp wood and a touch of leather in the background.
Palate
Big and spicy. Cracked black pepper, mixed with oak chips and caramelised ginger. Quite warming and subtle dry! Dried dark fruit with sweet vanilla and cereals, hints of wipped cream and a squeeze of grapefruit towards the finish.
Finish
The finish is long, warm and spicy with cinnamon and cloves. Slightly sweet with vanilla and a nice Christmas-y touch of German lebkuchen.
With water
A few drops of water significantly increase the delicate vanilla sweetness, while the fruity notes and earthy flavours are tamed. Sweet on the palate with lots of vanilla, apples and orange blossom. Less spicy and only slightly warming with dry notes of oak towards the finish. The finish shows medium length, some oak spice with very dry notes on the tail.
Comments
A wonderful and very enjoyable single grain whisky from this closed distillery. Bold and spicy with a lovely earthy touch on the one hand - sweet and fruity with cheering up on cake aromas on the other. Very appealing. Such a long ageing hasn't made the bourbon wood too dominating. Very well balanced with length and complexity. No water needed. A well-matured grain!
I thank Douglas Laing for the sample and the photograph!