Tasting Notes
ABV
45.8%
Region
Islay
Bottling
Speciality Drinks Ltd.
Cask type

--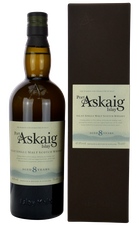 Nose
Fresh on the nose with an unobstrusive marine and phenolic character. Tender smoke and peat embers are nicely mixed with malted barley, cereals and delicate citric fruits. Seaweed with a briny and medicinal kick in the back.
Palate
Rich, bold and intense on the palate. The medicinal influence continues with peat fire, seaweed and smoked ham, while sweet and creamy tones of barley malt, vanilla and cereals appear almost at the same time. This is supported by lingering lemon notes and a warming spiciness of black pepper, cloves and oak.
Finish
The finish is long, dry and warming with lingering peat, cold smoke, and prickling oak with a lovely delicate fruity aftertaste.

With Water
Water tames the sweetness and fruity notes on the nose while bringing more peaty, dry, medicinal, and seaside flavours to the fore. Less intense and warming on the palate, although still peppery. There's more peat and dry oak present while the sweet and fruity elements are significantly tamed. The finish is shorter and dry with oak, cold smoke, peat and a touch of barley sweetness on the tail.
Comments
An already well composed and beautifully balanced islander. Pleasant interplay of marine Islay aromatic with a malty sweet and lemony heart. An enticing seaside experience at a very attractive price. Definitely one for the hip flask for a brief seaside walk at Port Askaig Bay watching the ferry to Isle of Jura.