Tasting Notes
ABV
58.7%
Region
Highlands
Bottling
Scotch Universe
Cask type

Ex-Laphroaig-Barrel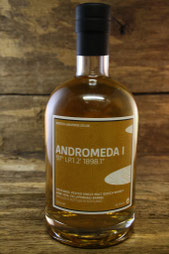 Nose
There's immediately peat and smoke on the nose with seaweed, creosote, coal tar soap and medicinal flavours. Subtle malty sweetness arrives nicely mixed with yellow fruits - lemon and quince. Tender spiced oak, hay and hints of juniper in the back.
Palate
Bold and intense on the palate. Extremely warming with peat, subtle smoke and cracked black pepper, even chilli! Once the spicy warmth fades, lingering sweet notes of barley sugar, quince and creamy vanilla arrive, before dry oak and notes of juniper take over.
Finish
The finish is medium long, warm, and creamy sweet with vanilla and malted barley. Dry and ashy on the tail.
With Water
Water tames the peaty and medicinal flavours, bringing more lemon, malted barley and oaky tones to the fore. Significantly drier on the nose. Lively, still vibrant on the palate with a tamed spiciness. Yellow fruits, barley sugar, coal tar and juniper towards the finish. The finish shows medium length with a creamy sweetness of malted barley and vanilla, followed by prickling oak and dry notes on the tail.
Comments
A pleasant fine smoked Highland dram. Strong, intense and already complex. Displays an assertive medicinal character. Young and boisterous, flanked by lovely sweet and fruity elements. A perfect outdoor companion for a barbecue.

I thank Michel Reick from Scotch Universe for the sample and the photograph!