Tasting Notes
ABV
53.9%
Region
Nicaragua
Bottling
eSpirits Whisky for Liquid Treasures
Cask type

Barrel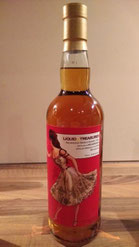 Nose
Sweet start on the nose with vanilla, toffee and citric fruits - oranges and lemons. Hints of oak, leather and subtle tobacco leaves in the background.
Palate
Nicely sweet on the palate with vanilla and toffee, immediately followed by dry notes of oak, leather and bitter citric peel. Warming spices arrive with oak and pepper, accompanied by tobacco leaves and coffee.
Finish
The finish shows medium length with slightly sweet but warming notes of vanilla, tobacco leaves and leather, with a touch of spiced oak on the tail.
With Water
Water tames the sweetness bringing more spices, leather and tobacco notes to the fore. On the palate, however, the vanilla and toffee sweetness dominates, accompanied by oak spice, white pepper, tobacco leaves and leather. The finish is significantly shorter with creamy toffee and slightly warming with oak and white pepper.
Comments
This rum is a very well-aged expression from Nicaragua. Lovely balanced with a delicate interplay of sweet and fruity flavours and pleasant leathery/spicy notes all the way through. Rich and intense. Not too sweet - a fabulous winter warmer.

I thank Dailydram.de for the sample and the photograph!