Tasting Notes
ABV
46.4%
Region
Brazil
Bottling
eSpirits Whisky for Liquid Treasures
Cask type

Barrel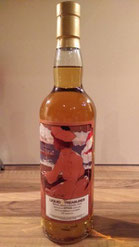 Nose
Fresh start on the nose with vanilla and yellow fruits, apricots in particular. This is followed by caramel, anise and tender oak spice in the background.
Palate
Deliciously sweet on the palate with vanilla and luscious apricots  dusted with icing sugar. Warming with a tiny spiciness of white pepper, anise and oak.

Finish
The finish shows medium length with sweet and warming notes of yellow fruits and pepper. Bitter orange peel and dry oak on the tail.
With Water
Water brings more citric notes to the fore with oranges and lemons and a hint of bitter orange peel. The vanilla sweetness is slightly tamed. Significantly less sweet on the palate with more yellow fruit - apricots, peaches, seville oranges and bitter notes of orange peel towards the finish. The finish is medium long, creamy and slightly sweet with bitter notes of herbs and oranges.
Comments
This Brazilian rum is a fresh, fruity and pleasantly spicy one. Well balanced and not too sweet. A superb sipping rum - no water needed. I think both agricole aficionados and traditional molasses-based rum drinkers would greatly enjoy this one.

I thank Dailydram.de for the sample and the photograph!