Tasting Notes
ABV
52.9%
Region
Speyside

Bottling
Scotch Universe
Cask type

First Fill Côte de Beaune Wine Barrique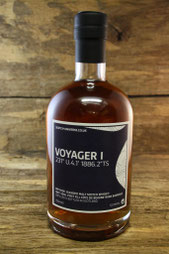 Nose
Fruity on the nose with red apples, raspberries, dark cherries and ripe yellow pears. Notes of dark chocolate and subtle cinnamon nicely linger with hints of oak in the back.
Palate
Bold, rich and intensely warming on the palate with black pepper and cinnamon. This is followed by creamy stewed fruits, nicely wrapped in spiced and slightly dry oak.
Finish
The finish is long, warm and fruity with apples and dark cherries. Bold notes of spiced oak, pepper and a whiff of cinnamon on the tail. This is accompanied by a touch of cinnamon with a dry end.
With Water
Water brings more fruity flavours to the fore with lots of cherries, notes of vanilla and black pepper, too. Still strong and intense on the palate with creamy even silky fruit compote. Sweeter with cherries, apples and pears and only a hint of oak spice. The finish is long, warm and creamy with fruit jam, cinnamon and subtle spiced oak. Very delicate!
Comments
A big powerful bruiser! Mature and complex. This blended malt is very well balanced. I love the interplay of fruity and sweet, spicy and dry. A confident, well-rounded cask strength expression best to enjoy with a splash of water after a good meal.

I thank Michel Reick from Scotch Universe for the sample and the photograph!