Tasting Notes
ABV
54.4%
Region
Speyside
Bottling
eSpirits Whisky for Liquid Treasures
Cask type

Bourbon Hogshead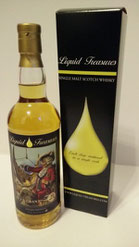 Nose
The nose starts off with lingering vanilla, subtle butterscotch and yellow fruits - mirabelles, apricots, peaches and tangerines. Flowery with a hint of oak in the back. The alcohol is present but not pungent.
Palate
Sweet on the palate as the nose suggests with lots of fruity flavours, mainly apricots and tangerines. Vanilla and warming spices of oak, ginger and white pepper nicely linger with a touch of blossom honey in the back.

Finish
The finish is medium long, subtle sweet but becomes dry with time. Tender bitter orange peel with flowery notes and a hint of hay on the tail.
With Water
Water tames a bit of the alcoholic bite bringing more fruity and flowery notes to the fore. Still fruity on the palate with a tamed sweetness and prickling oak on the tongue. Slightly warming with increased bitter notes of tangerine peel towards the finish. The finish shows medium length with slightly warming spices, very dry oak and black pepper on the tail.
Comments
An enticing nose and lively palate! A Speysider with a rich fruitiness, plenty of vanilla and warming spices. Big in body and flavour. A dry character when diluted, enhancing the pepperiness.

I thank Dailydram.de for the sample and the photograph!