Tasting Notes
ABV
54.4%
Region
Highlands
Bottling
Scotch Universe
Cask type

First-fill Port Pipe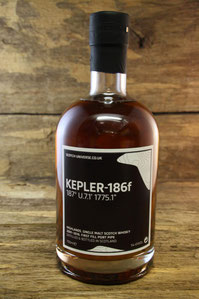 Nose
Sweet and fruity on the nose with red berries, subtle plums and cherries. Becomes sticky fruit compote with time. Behind that fruity curtain lingering spicy notes of cinnamon, oak and tobacco leaves arrive. The alcohol is present but not pungent.
Palate
Bold and intense on the palate with a lovely sweet fruitiness of red berries, brambles, dark cherries and plums. This creamy and thick fruit jam is accompanied by a nicely warming spiciness of oak, pepper, and cinnamon. Delicate wine aroma with a prickling alcoholic bite. Very mouthfilling indeed!
Finish
The finish is long, warm and creamy with sticky fruit jam, cinnamon and spiced oak. Becomes slightly bitter on the tail with notes of grape peel.
With Water
On the nose, the fruitiness is significantly enhanced with a few drops of water, bringing more fresh red berries to the fore. Very fruity and sweet on the palate. Nicely balanced with cinnamon, pepper and prickling oak spice. The finish is a bit shorter, creamy sweet and soft with red fruits, honey and oak.
Comments
A beautifully composed and savoury dram from this new, internationally active independent bottler. Rich, elegant, lovely complex and well-balanced. The sweetness and fruity character of the port pipe blends quite well with the intriguing warm oak spices and pleasant alcoholic bite. Very sweet and quaffable with an increased fruitiness and slightly tamed spiciness when diluted. A perfect choice after a good meal.

I thank Michel Reick from Scotch Universe for the sample and the photograph!