Tasting Notes
ABV
43%
Region
Austria
Bottling
Distillery
Cask type

--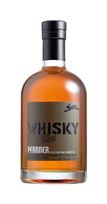 Nose
The first flavour you get on the nose is vanilla, loads of vanilla, followed by toffee and some green apple notes. Grassy and floral style with hints of pears and maybe quince. Creamy with dry oak in the back.
Palate
Sweet and very warming with vanilla, pears, apples and a noticeable spiciness of oak and pepper. Hints of sultanas with creamy notes of toffee towards the finish.
Finish
The finish is medium long with creamy vanilla. Nicely warming notes of prickling oak and pepper becomes noticeable dry on the tail.
With Water
Water tames the lovely vanilla sweetness and fruitiness on the nose bringing more floral notes to the fore, accompanied by a perfume like style. Stays sweet on the palate with vanilla, apples and yellow grapes. Only slightly warming while the peppery note's still present. The finish shows medium length with prickling oak, subtle pepper and very dry oak.
Comments
This is a deliciously sweet, fruity and intense single malt from Austria. No doubt, it is still young lacking certain depth and complexity. But this dram already shows a balanced flavour profile. Powerful and pleasantly drinkable. Would like to taste this one after having been matured for a few more years.
I thank Caminneci - Wine & Spirit Partner for sample and photograph!