Tasting Notes
ABV
43%
Region
Germany
Bottling
Distillery
Cask type

Bourbon Casks, Oloroso Sherry Cask Finish (951 btl.)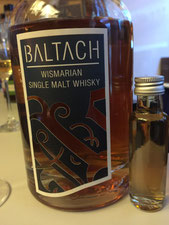 Nose
Notes of grapes on the nose, more the darker ones. This is complemented by sweet sherry and vanilla, with grain and cereal flavours in the back. Slightly spiced oak with a mix of fruity, herbal, and earthy notes. Reminds me of a strong beer with a fruity and malty character.
Palate
Surprisingly sweet on the palate with a delicate fruitiness of dark grapes, vanilla, and honey. This is accompanied by a warming spiciness of oak, pepper, and subtle nutmeg. Becomes drier towards the finish.
Finish
The finish is medium long, sweet and creamy with a slightly warming but sweet oaky spiciness, nutty flavours and a very dry end.
Comments
This is a fruity, sweet and mild single malt from the German Hanseatic city Wismar on the Baltic Sea coast. Although only three years old this dram already shows great promise. Surprisingly mature with a nice balance of sweet, fruity and lovely spicy flavours. The nose reminds me of a strong beer whisky and indeed, the distillery has a long history in beer brewing at the "Brauhaus am Lohberg zu Wismar". Quite tasty and quaffable. Well done folks!

I thank Whiskymax for the sample!