ABV
48.4%
Region
Lowlands
Bottling
Douglas Laing
 
Cask type

Refill Hogshead (# DL11591, 319 btl.)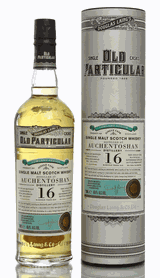 Nose
Fruity with citrus blossom, yellow fruits - apricots in particular, and a hint of toffee. Some spicy notes of ginger and white pepper in the back.
Palate
Sweet and intense on the palate with vanilla and red peaches. Becomes spicier on the midpalate with white pepper, ginger and a whiff of oak. Notes of lemon and apricots linger with subtle caramel towards the finish.
Finish
The finish shows medium length with orange peel, anise and slightly dry oak on the tail.
With water
There's less fruitiness coming through when a few drops of water are added while the spiciness with pepper and ginger is dominating. Still sweet on the palate with oranges, followed by caramelised ginger and black pepper. The finish is medium to short with a warming mix of toffee, ginger, barley sugar and oak.
Comments
A refreshing single malt from the Lowlands by Douglas Laing. Delicious citrus notes combine in harmony with ginger spices and a fine vanilla sweetness. Despite the 48.4% abv surprisingly powerful. If this is too much for you, you can dilute it with a few drops of water. The result remains sweet, spicy and fruity. A thoroughly successful Auchentoshan!
I thank Douglas Laing for the complimentary sample and the photograph!