ABV
54.3%
Region
Speyside
Bottling
Douglas Laing (The Elements Collection)
 
Cask type

Sherry Butt (366 btl.)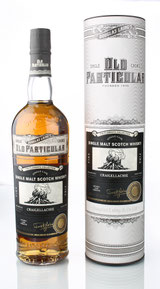 Nose
Starts with crispy breadcrust and caramelised sugar, followed by burnt caramel and mocha. Then fruity notes shine through with juicy apricots, followed by vanilla custard, white pepper, subtle cloves and a whiff of oak. Needs some time to develop its full aroma profile.
Palate
Bold, sweet and intense on the palate. Fruity notes of apricots complemented with orange zest and burnt caramel. Then a warming spiciness arrives with allspice, pepper and charred oak in the back.
Finish
Long and creamy sweet on the finish with barley sugar, mocha, some leathery notes and a touch of dry oak on the tail.
With water
There's more fruits coming through when a splash of water is added. Lots of apricots, peaches and passion fruit. The burnt notes are slightly tamed. Still intense on the palate although the warming spiciness is pushed in the background bringing more fruity and sweet notes to the fore. The finish is still long and creamy with honey, apricot jam and mocha.
Comments
This first release of Douglas Laing's new Old Particular Elements Collection represents a well-aged Craigellachie matured in a fired sherry butt resulting in a delicate fruitiness, nicely mixed with spicy flavours and decent burnt aromas. Rich, intense and well-balanced. Opens up with a splash of water while retaining its appealing sweet and fruity notes.
I thank Douglas Laing for the photograph!